Tecnologias Digitais de Apoio à Tomada de Decisão em Saúde
Jéssica Tavares

Department of Social, Political and Territorial Sciences, University of Aveiro, Portugal

https://orcid.org/0000-0002-2678-5972

Luís Jorge Gonçalves

School of Technology and Management of Águeda, University of Aveiro, Portugal

Gonçalo Santinha

GOVCOPP, Department of Social, Political and Territorial Sciences, University of Aveiro, Portugal

https://orcid.org/0000-0002-4732-5959
Keywords:
healthcare, digital tools, access, decision-making
Abstract
The role and importance of innovation are recognized as one of the main drivers of development and sustainability in various areas of activity. In Portugal, innovation applied to healthcare has resulted in the development of several digital tools to support decision-making. However, these tools do not seem to meet the users' needs and expectations. This article focuses on the development of an application whose objective is to provide citizens with accurate, up-to-date and expanded information that allows him to make thoughtful choices about the required or needed healthcare provider. Interviews were conducted with several specialists, followed by the construction of a tested and validated mockup with a focus group. Findings show that this application reports benefits, not only for citizens, enabling greater awareness of healthcare provision, but also for policy makers, by identifying the factors that influence citizens' decisions and helping in the design of informed and appropriate policies for different geographical contexts.
Downloads
Download data is not yet available.
References
Campos, A. (2015). Saúde & Preconceito. Editora Livros Horizonte, Lisboa.
Dias, R. (2002). Métricas para Avaliação de Sistemas de Informação. Revista Eletrónica de Sistemas de Informação, 1(1), 1–13.
Direção-Geral da Saúde. (2012). Plano Nacional de Saúde 2012-2016. Lisboa: Direção de Serviços de Planeamento.
Direção-Geral da Saúde. (2015). Estratégia Nacional para a Qualidade na Saúde 2015-2020, Lisboa.
Espanha, R. (2013). Informação e Saúde. Fundação Francisco Manuel dos Santos, Lisboa.
Ferreira, P., Raposo, V., & Antunes, P. (2017). Cuidados de Saúde Primários: Governação e Inovação em Saúde em Portugal. In M. Bessa, J. Bezerra, & I. Leitão (Eds.), Pesquisas em saúde no contexto do cuidado, redes de atenção, fluxos e avaliação: multiplicidade de olhares. Fortaleza: Universidade Estadual do Ceará, Editora UECE, 458–499.
Grupo de Ativistas em Tratamento. (2017). Carta para a Participação Pública em Saúde. In Mais Participação Melhor Saúde, Lisboa.
Kendal, S., Kirk, S., Elvey, R., Catchpole, R., & Pryjmachuk, S. (2017). How a moderated online discussion forum facilitates support for young people with eating disorders. Health Expectations: An International Journal of Public Participation in Health Care and Health Policy, 20(1), 98.
Lapão, L., & Dussault, G. (2017). The contribution of eHealth and mHealth to improving the performance of the health workforce: a review. Public Health Panorama, 3(3), 463–671.
McLendon, K. (2000). E-commerce and HIM; Ready or not, here it comes. Journal of the American Health Information Management Association, 71(1), 22–23.
Ministério da Ciência e da Tecnologia. (1997). Missão para a Sociedade da Informação. Livro verde para a Sociedade da Informação em Portugal. Lisboa: M.S.I., D.L. Retrieved from http://purl.pt/239.
Organização Mundial da Saúde. (2011). mHealth new horizons for health through mobile technologies. Global Observatory for eHealth series (Vol. 3). Geneva, Switzerland. Retrieved from https://www.who.int/goe/publications/goe_mhealth_web.pdf.
Organização Mundial da Saúde. (2016). Global diffusion of eHealth: Making universal health coverage achievable. Geneva, Switzerland. Retrieved from https://www.who.int/ehealth/en/.
Organização Mundial da Saúde. (2017). Health promotion. Geneva, Switzerland. Retrieved from http://www.who.int/topics/health_promotion/en/.
OPSS. (2001). Conhecer os caminhos da Saúde: Relatório Primavera 2001. Observatório Português dos Sistemas de Saúde, Lisboa.
Santinha, G. (2016). Políticas da saúde e território: um debate em torno da realidade portuguesa à luz da visão de decisores políticos e instrumentos programáticos. Saúde E Sociedade, 25(2), 336–348.
Sarkar, S. (2014). Empreendedorismo e Inovação, Escolar Editora (3ed.), Forte da Casa.
Shulver, W., Killington, M., Morris, C., & Crotty, M. (2017). "Well, if the kids can do it, I can do it": older rehabilitation patients' experiences of telerehabilitation. Health Expectations: An International Journal of Public Participation in Health Care and Health Policy, 20(1), 120–129.
Smith, B., & Magnani, J. (2019). New technologies, new disparities: The intersection of electronic health and digital health literacy. International Journal of Cardiology, 292, 280–282.
Thies, K., Anderson, D., & Cramer, B. (2017). Lack of Adoption of a Mobile App to Support Patient Self-Management of Diabetes and Hypertension in a Federally Qualified Health Center: Interview Analysis of Staff and Patients in a Failed Randomized Trial. JMIR Human Factors, 4(4), e24.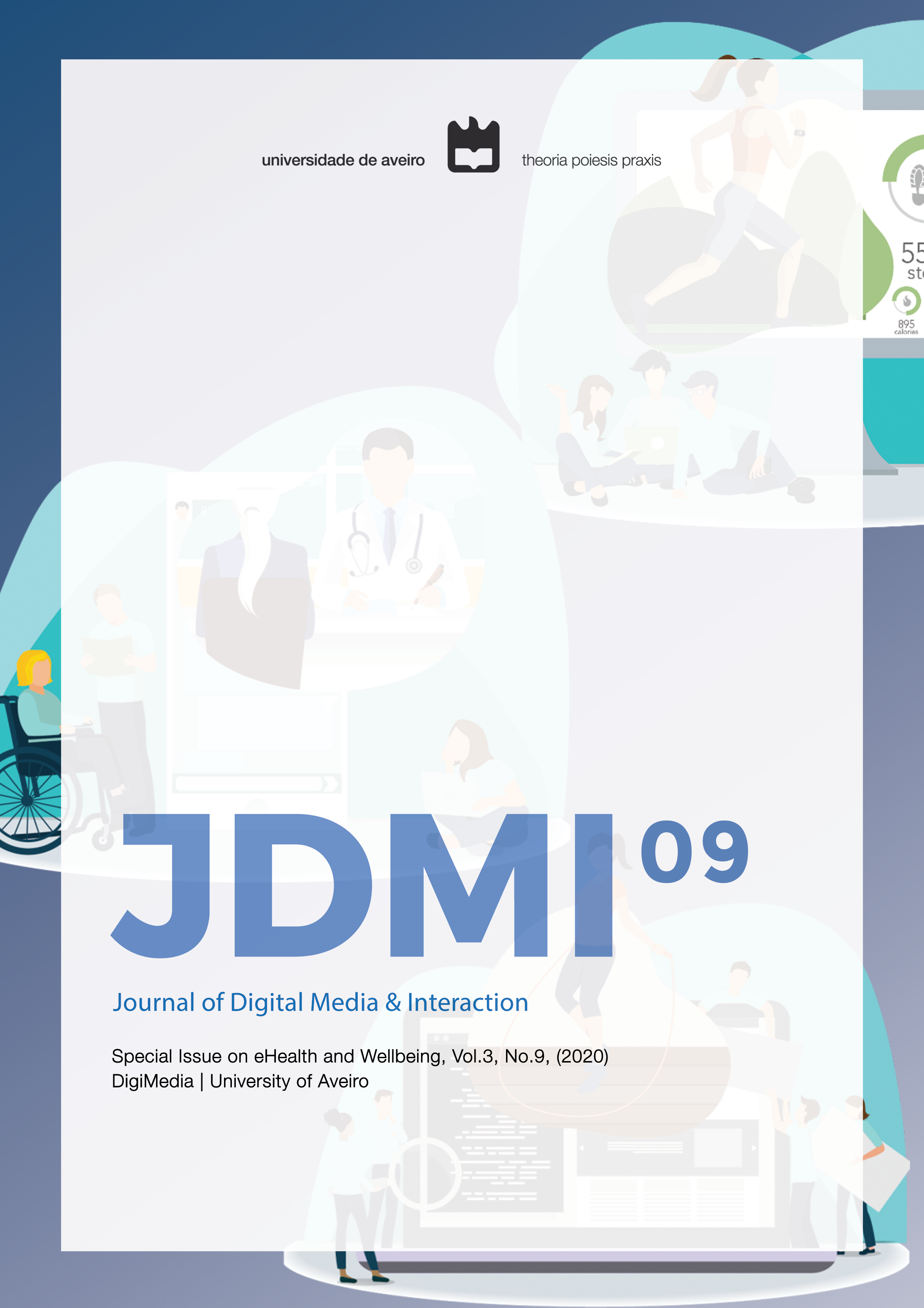 Copyright (c) 2020 Jéssica Tavares, Luís Jorge Gonçalves, Gonçalo Santinha
This work is licensed under a Creative Commons Attribution-NonCommercial-NoDerivatives 4.0 International License.
Authors who publish in the JDMI agree to the following terms:
Authors retain copyright and grant the journal the right of first publication with the work simultaneously licensed under a Creative Commons BY-NC-ND 4.0. This licensing allows others to share the work with no changes and acknowledgement of the work's authorship and initial publication in this journal, but not for commercial use.

Authors are able to enter into separate, additional contractual arrangements for the non-exclusive distribution of the journal's published version of the work (e.g., post it to an institutional repository or publish it in a book), with an acknowledgement of its initial publication in this journal.

Authors are permitted and encouraged to post their work online (e.g., in institutional repositories or on their website) after publication, as it can lead to productive exchanges, as well as earlier and greater citation of published work.
Copyrights to illustrations published in the journal remain with their current copyright holders.
It is the author's responsibility to obtain permission to quote from copyright sources.
Any fees required to obtain illustrations or to secure copyright permissions are the responsibility of authors.
Additional Information
All correspondence concerning contributions, books and other review material should be sent to: deca-jdmi@ua.pt