Emoções e interpretações: proposta de um artefacto educacional em média-arte digital
(Emotions and interpretations: proposal of an educational artifact in digital media art)
Keywords:
Digital media-art artefact, Emotions to Scenes, Portuguese National Film Plan, Media Literacy, Film Literacy, School Contexts
Abstract
Este texto apresenta o artefacto "Emotions to Scenes" como proposta em média-arte digital para aplicação em contexto escolar. O objetivo é refletir sobre o problema ou conflito dasinterpretações feitas sobreimagens recebidas e associadasàsemoções, testandoo posicionamento emocionaldos utilizadores em relação a outros que usufruíram damesmaexperiência.Permite, pois,verificar se a interpretação de cada umconverge ou diverge da dos outros.Numa época tão mediática como a atual, na qual constantemente se recebem imagens em movimento com mensagens provocadoras da sensibilidade emocional dos recetores, o artefacto ofereceuma experiência em torno de tais estímulos visuais.Para tal, e depois de apresentar o enquadramento teórico, descrevemos o design do Artefacto, a sua conceção criativa emmédia-arte digital, o processo de instalação artística e o contexto de exposição e contacto com o público. Por último, enunciamos a proposta de aplicação àspráticas promovidas no âmbito do Plano Nacional de Cinema(PNC).Consideramos, por isso, que o"Emotions to Scenes", tendo a génese no ambienteda média-arte digital,também pode ser um artefacto educacional, enquantorecurso didáticopromotor dereflexões no quadro das literacias para os media, no contexto dasatuais práticas e estilos de vida online.
(This text presents "Emotions to Scenes" as a digital media-art artefact for application in a school context. The goal is to reflect on the conflict of interpretations based on the images received and associated with emotions, testing the user's emotional positioning vis-à-vis those who share the same experience. Thus, it allows verification on whether each user's interpretation converges or diverges from that of other users. In an age as mediatic as the present, with moving images constantly received, and messages that incite the emotional sensitivity of the receptors, the artefact offers an experience on such visual stimuli. To this purpose, and after presenting the theoretical framework, we describe the design of the artefact, its creative design in digital media-art, the artistic installation process, the context of exhibition, including the contact with the public. Finally, we propose its application to the practices promoted within the scope of the Portuguese National Film Plan (PNC). We therefore consider that "Emotions to Scenes", although having its genesis in the digital media-art environment, can also be an educational artefact, namely as a didactic resource contributing to promote reflections in the context of media literacies in the light of current online practices and lifestyles.)
Downloads
Download data is not yet available.
References
Paris OER Declaration. (2012). World Open Educational Resources (OER) Congress Unesco.http://www.unesco.org/new/fileadmin/MULTIMEDIA/HQ/CI/WPFD2009/English_Declaration.html
Canudo, R. (1924). La Gazette des Sept Arts. http://www.cineressources.net/consultationPdf/web/o002/2687.pdf
Castells, M. (2011). A Sociedade em Rede. A Era da Informação: Economia, Sociedade e Cultura(4th ed.). : Fundação Calouste Gulbenkian.
Costa, C. (2018). Cinema, Realização e Emoção: O Rosto do Espetador como Elemento Descodificador da Narrativa Cinematográfica.[Tese de Doutoramento]. Faculdade de Belas Artes da Universidade do Porto.
Coutinho, C. P. (2011). Metodologia de Investigação em Ciências Sociais e Humanas: teoria e prática. Almedina.
Damásio, A. (1998). O Erro de Descartes, Emoção , Razão e o Cérebro Humano. In Book(Vol. 1).
Depardieu, F., & Martin, T. (2018). L'Intelligence Artificielle va-t-elle nous dépasser.
Gumbrecht, H. U. (2014). Nosso Amplo Presente: O tempo e a cultura contemporânea(UNESP, Ed.; A. I. Soares, Trans.).
Leffa, V. J. (2016, November 18). Uma outra aprendizagem é possível: colaboração em massa, Recursos Educacionais Abertos e ensino de línguas. Trabalhos Em Linguística Aplicada, 55(2), 353–377. https://periodicos.sbu.unicamp.br/ojs/index.php/tla/article/view/8647399/14351
Marcos, A. (2012). Instanciando mecanismos de a/r/tografia no processo de criação em arte digital/computacional. InVISIBILIDADES: Revista Iberoamericana de Pesquisa Em Educação, Cultura e Artes, 3, 138–145. https://repositorioaberto.uab.pt/handle/10400.2/2204
Ortega y Gasset, J. (2013). A Rebelião das Massas. Ruriak Ink.
Reia-Baptista, V. (2006). Regulation, awareness, empowerment : young people and harmful media content in the digital age. In Ulla Carlsson (Ed.), Regulation, Awareness, Empowerment Young People and Harmful Media Content in the Digital Age(Göteborg University, p. 286). International Clearinghouse on Children, Youth and Media, NORDICOM, Göteborg University. https://sapientia.ualg.pt/handle/10400.1/9125
Weir, P. (1998). Dead Poets Society. Touchstone Pictures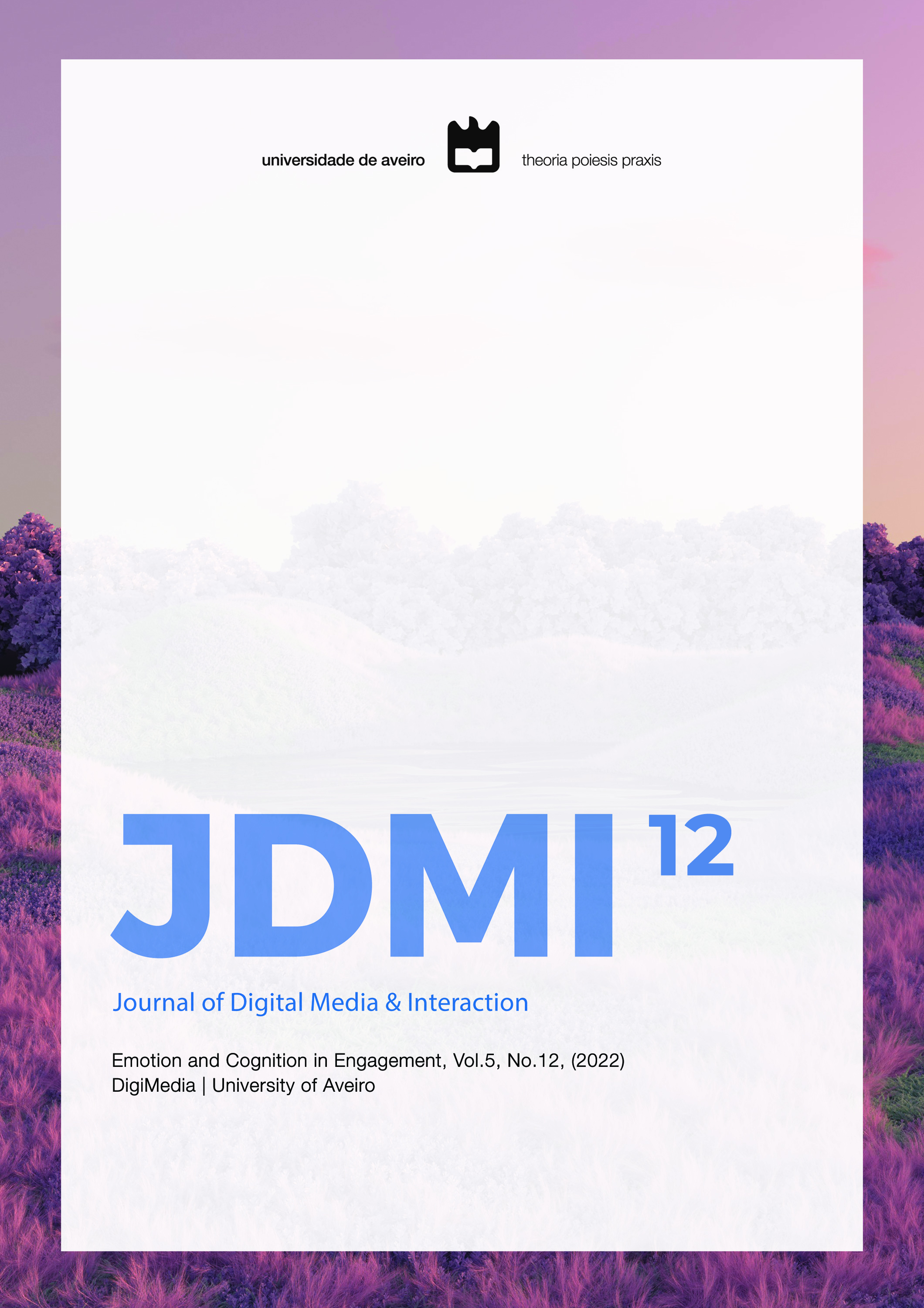 Section
Dossier no.12 - Emotion and Cognition in Engagement
Copyright (c) 2022 João Paulo Pinto, Teresa Margarida Loureiro Cardoso, Ana Isabel Soares
This work is licensed under a Creative Commons Attribution-NonCommercial-NoDerivatives 4.0 International License.
Authors who publish in the JDMI agree to the following terms:
Authors retain copyright and grant the journal the right of first publication with the work simultaneously licensed under a Creative Commons BY-NC-ND 4.0. This licensing allows others to share the work with no changes and acknowledgement of the work's authorship and initial publication in this journal, but not for commercial use.

Authors are able to enter into separate, additional contractual arrangements for the non-exclusive distribution of the journal's published version of the work (e.g., post it to an institutional repository or publish it in a book), with an acknowledgement of its initial publication in this journal.

Authors are permitted and encouraged to post their work online (e.g., in institutional repositories or on their website) after publication, as it can lead to productive exchanges, as well as earlier and greater citation of published work.
Copyrights to illustrations published in the journal remain with their current copyright holders.
It is the author's responsibility to obtain permission to quote from copyright sources.
Any fees required to obtain illustrations or to secure copyright permissions are the responsibility of authors.
Additional Information
All correspondence concerning contributions, books and other review material should be sent to: deca-jdmi@ua.pt